Trick or Treat! Pumpkin, melon, cucumber and relatives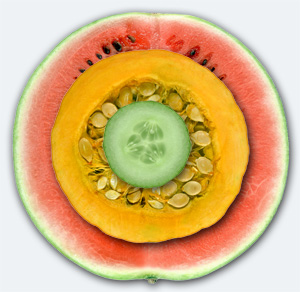 What do sugar melon, cucumber, and pumpkin have in common? They all belong to the plant family of cucurbitaceae. In a special exhibition dedicated to this family, the Botanical Museum provides information about the botanical characteristics of pumpkins, cucumber et al., and historically traces their career as popular crops throughout the world.
How many percent of water make up a cucumber and what are its remaining components? Who would have thought that of all things the watermelon originally comes from the driest regions in Africa? And what exactly is the difference between a watermelon and a sugar melon? These and many other questions are traced in the exhibition whose different sections are based on the plant anatomy. Eleven info-plates go into the details of root, tendril, flower, fruit and seeds of known and unknown cucurbits like white bryony, wax gourd and vegetable sponge.
The cucurbits – native to all five continents – neither belong to the largest nor the commercially most important plant families. However, they are of exceptionally versatile use. It was human agricultural practice that separated the bitter-tasting wild-plants from the non-acerbic cultivars, proliferated them, and spread them all over the world. In today's vegetable-beds it is not only America and Africa that meet but also the young and the young at heart, because new cultivars like the zucchini stand vis-à-vis to Methuselahs like the pumpkin, the oldest agricultural crop in the New World.
Not only rare alcoholic herbal preparations from colonial times, unique herbaria specimen and bizarre-shaped roots are on display, but also bottle-gourds, known as calabash, including explanations about their manifold uses in ancient and contemporary cultures around the world.
Finally the exhibition sheds a light on the socio-cultural connection between pumpkins and Halloween and gives information about the medical uses of this plant-family as well as its culinary values.