Neotropical lichen genera
pictures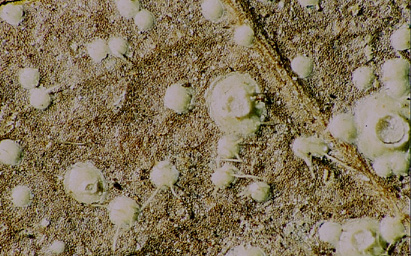 Bullatina aspidota (Vain.) Vezda & Poelt
Togo, Tsévié, leg. Ern et al. [B 60 0101218]
Growing on leaves of rainforest undergrowth. The thallus is divided in small, rounded, white, strongly convex parts
which may bear one or a few large spines or a single large, immersed ascocarp.
[picture height = 3.5 mm].
Click for larger picture.
© Botanischer Garten und Botanisches Museum Berlin-Dahlem, Freie Universität Berlin
page editor: Harrie Sipman, this page last updated 1 July 2017, imprint
http://www.bgbm.org/sipman/keys/pict/Bullatina.htm