Neotropical lichen genera
pictures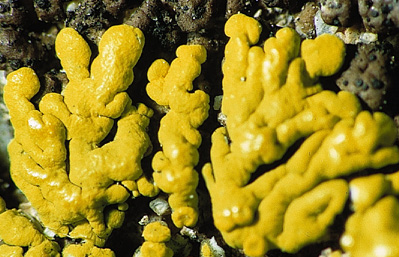 Candelina submexicana (Bouly de Lesd.) Poelt
Mexico, Baja California Sur, 400 m, leg. H. Sipman 25036 [B].
On siliceous rock outcrops in dry places. The thallus reminds of lobed Caloplaca species,
but has the negative to somewhat reddish K-reaction of Candelaria and Candelariella.
[picture height = 3.5 mm].
Click for larger picture.
© Botanischer Garten und Botanisches Museum Berlin-Dahlem, Freie Universitšt Berlin
page editor: Harrie Sipman, this page last updated 1 July 2017, imprint
http://www.bgbm.org/sipman/keys/pict/Candelina.htm