Neotropical lichen genera
pictures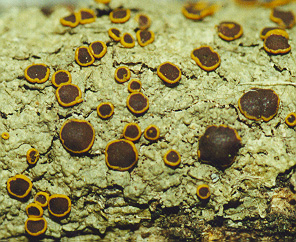 Letrouitia sp.
Brazil, photo kindly provided by Alfonso Spielmann.
A crustose lichen growing on tree trunks in light forest, with a greenish thallus and orange to rusty brown apothecia. The species look very similar from outside and ascospores have to be examined to recognize the species.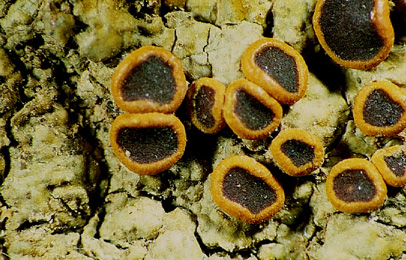 Letrouitia domingensis (Pers.) Haf. & Bellem.
Brazil, ParanŠ, Rio Iguacu, leg. J. Saödanha 23 [B].
On tree trunk in forest alonf river.
[picture height = 3.5 mm]
© Botanischer Garten und Botanisches Museum Berlin-Dahlem, Freie Universitšt Berlin
page editor: Harrie Sipman, this page last updated 4 March 2002, imprint
http://www.bgbm.org/sipman/keys/pict/Letrouitia.htm