Neotropical lichen genera
pictures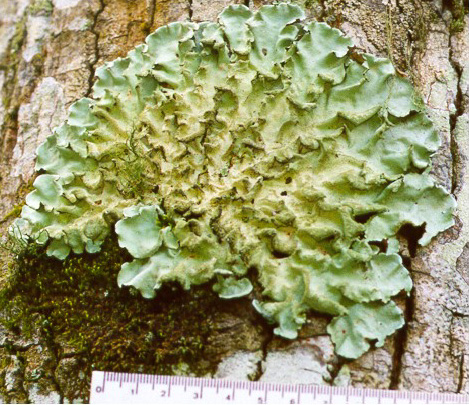 Parmotrema tinctorum (Nyl.) Hale
Brazil, photo kindly provided by Adriano Spielmann.
The foliose lichens of the genus Parmotrema are mainly found at mid-elevations, on tree branches or trunks with much light, or on rock. P. tinctorum is characterized by the presence of isidia, its grey colour, and the strong C+ red reaction of the medulla. It often grows in disturbed habitats, on road-side trees or in gardens.
© Botanischer Garten und Botanisches Museum Berlin-Dahlem, Freie Universitšt Berlin
page editor: Harrie Sipman, this page last updated 27 Feb. 2002, imprint
http://www.bgbm.org/sipman/keys/pict/Parmotrema.htm